We're Getting Mutants in the MCU - The Loop
Play Sound

Dream (夢, Yume?) is the 1st chapter of the Blue Lock manga series.
Short Summary
Long Summary
News hits of Japan's National Team losing in the 2018 World Cup as one of the top 16 teams. In the present at the Japan Football Union is having a meeting led by a new member, Anri Teieri, who suggests in developing a plan in order to improve Japan's World Cup performance. The president, Hirotoshi Buratsuta, responds that their profits are still good and declares that football is nothing but a business only, and they should just get a foreign coach to give the team a spark amidst all the Japanese players and, as long as they maintain the Japan national team brand, they'll be fine reaping the profits generated by it. Anri keeps silent.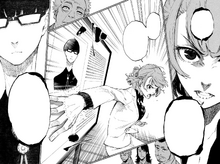 Buratsuta then asks Anri what to do if the reform affects the bottom line and further tells her that they should value more the current situation and it's that simple. Then, the president jokingly asks his fellow members if they remember Osim, just because he remembered it when he mentioned the word "simple". The other association members then fool around even more.
Hearing the president's response, Anri Teieri declares that if the situation continues, Japan will never win the World Cup. The president mocks her and asks her if she really thinks that Japan can win the World Cup. Anri replies that she does and it's her dream for Japan to win the World Cup. She then proposes a plan with a goal to create the ultimate player that can lead Japan to its first World Cup and introduces Jinpachi Ego as the coach to create the foundations of the current national team.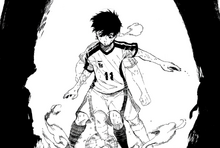 Meanwhile, the National High School Football Qualifiers are taking place between Ichinan High School and Matsukaze High School with the current score being 0-1. Yoichi Isagi is the one with the ball, contemplating whether to pass or shoot the goal himself, he decides to pass the ball to his teammate Tama who then failed to make a goal. The other school is having a counter with Ryousuke Kira as the lead player. He manages to score a goal making the score 0-2, making his team the winner. Tama apologizes to his team for not making the goal.
Meanwhile, Kira is being interviewed about how he felt being able to play for Japan's U-18 National team, Kira responds that he's got his sights of winning the nationals with his team and says that the reason for his success was having a capable team he could rely on.
Isagi's coach made a closing speech for his team. Devastated by the loss, the coach cries while giving his advice to remember the defeat but don't think of it as meaningless but instead to remember it. He then declares that his team is still the best in Japan. While saying this, in Isagi's mind, they are just a team that fell one step short of playing at Nationals.
After the match, when Isagi is on his way home, he suddenly thinks of Noel Noa and tells himself that he will never be a great hero like him. He then reminisces his childhood days watching Noel Noa play and being inspired by him to play football. He imagined what would have happened if he was the one who kicked the ball, how his fate would have changed. He then says to himself that what-ifs are pointless in football and they didn't lose because he chose for team play and talks that football is a sport played with 11 people. He then shouts and cries because he wanted to win.
Isagi arrives home and his mother tells him that he had gotten a letter from the Japan Football Association for a 'Player Improvement Project'.
The next day, Isagi arrives at the Japan Football Union building and encounters Kira. Kira tells Isagi that he remembered the other since he was quite a player and had an impressive field perspective and high football IQ. Upon opening the entrance, they saw many players also waiting in the area. A man begins his speech and tells the players that they are chosen based on his criteria alone and proceeds to introduce himself as Jinpachi Ego and his job is to make Japan a team capable of winning the World Cup. He said that he will forge the best striker in the world among the 300 U-18 forwards he chose and in order for him to achieve that, the Blue Lock facility was created. He then states that all players will live in the building and will strictly follow his regimen and that their careers are over. Ego further emphasizes that if anyone manages to defeat all 299 players and be the one remaining, the last player standing will become the best striker in the world. Shocked by what Ego said, Kira responds that their current teams are their priority and he cannot accept those terms mentioned. All the other players agreed.
Ego then responds and asks them if they would rather be a high-school champ than becoming the best striker in the world. He then tells the players that he cringes at the look of Japan's future in their hands. Japan may be the best in organizational skills in football but in everything else, they are second-rate. Ego then asks the players what is football to them, a sport where you try to score goals in teams of 11 players, and proceeds that that thinking is wrong. He then tells that "Football is, at its core, a sport about scoring goals even at the expense of your teammates. The best player is the one that scores the most goals." Kira responds and tells Ego that what he said was insulting players like Honda, Kagawa, and others that shape Japan's National line up and the value of team play instilled is the same for them.
Ego then mocks the mentioned players as the squad that has yet to win a single World Cup. He then mentions Noel Noa, Eric Cantona, and Pele as revolutionary strikers but their extraordinary "egoism" is what Japan lacks. He then plays a scenario wherein the hopes of all Japan lie in their shoulders. He then states that if they want that "rebellious egoism", then they should step through the gate. He then says his last message that football is a sport to develop the players as strikers and think of literally everyone as supporting them and tells them to throw away their common sense because, in football, they are a star.
After hearing Ego's words which made Yoichi shivered, he decides to step through the gate. Confused, the other players also step through the gate with the hopes of becoming the best striker.
After that, Anri is talking to Jinpachi and told him that she will follow his every order and will leave the future of Japan's football in his hands. Jinpachi, while smiling, said that it will become football's critical moment.
Chapter Notes
Characters by Appearance
Trivia
The Osim mentioned was actually Ivica Osim who coached Japan's National Team from 2006 to 2007
Oka-cha refers to Takeshi Okada who replaced Osim as the national team's coach.
Kazumiura refers to Kayusozhi Miura who made Japan qualify in the World Cup in 1998.
Noel Noa is not based on any real-life player.