The Blue Lock (ブルーロック, Burū Rokku, Blue Lock?) is is the facility built wherein the players will live and follow the personally-designed training regime created by Jinpachi Ego.
Structure
It is arranged into five different strata. There are 25 teams ranging from "B" to "Z" with each set of five times in a stratum living in the same conditions. Each team is formed by the ranks of their players (ex. Team B 1st-11th...)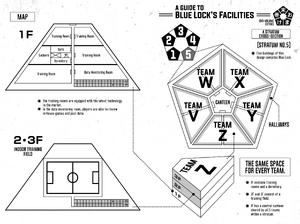 Daily Routine (First Selection)
07:00am- Wake Up and Breakfast
08:00am- Training with the machines in the Training Room
09:00am- Individual Warm Up and Running
10:00am to 12:00pm- Team Training (Tactical Training and Team Practice)
12:00pm to 1:00pm- Lunch time and Break
2:00pm to 4:00pm- Team Training (Tactical Training and Game Practice)
4:00pm to 6:00pm- Individual Training (some may finish early and go to shower and eat)
6:00pm to 8:00pm- Dinner time
8:00pm to 10:00pm- Team Meeting (Analysis of Tactics and Analysis of Opponents)
10:00pm to 12:00am- Free time
12:00am- Sleep
*refer to Chapter 22, page 22 for details on the individual members of Team Z's behavior during these times. Info can be used to better describe their personalities.
Rooms